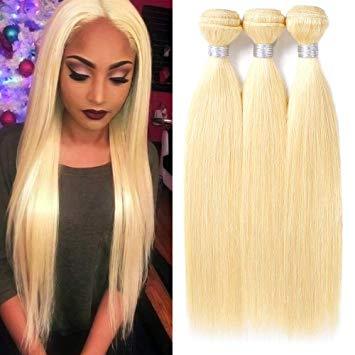 White Alaskan Bundles
Description
This beautiful 613 blonde line is everything you've been waiting for! Show off the natural blonde dimensions or get inspired by adding color!  Our high quality and well-made bundles are weighing in 3.0 ounces and ready to wear straight out of the packaging. Our products are 100% Raw hair with all cuticles going in the same direction.  Which means that you can rest assured that you are getting a product that is unprocessed, free of chemicals/nits, and free from tangling and matting when cared for properly. We use Raw and Brazilian hair in our product line for its smoothness, durability, and unparalleled luster. For a full sew in weave we recommend ordering 2-3 bundles of hair. For hair over 18", we recommend ordering 4-5 bundles.
So, if you are desiring an everyday look or a lavish hairstyle that require several extensions at once know that we got you covered. Additionally, The extensions can also transform predominantly straight hairstyles into wavier and flowing ones. Because they are made 100% Raw and/ Virgin hair, they can be styled much like the wearer's own hair. These bundles can be dyed, cut, curled, braided, and more, without fear of damage.
 Note: The shorter the length the deeper and tighter the wave/curl pattern will be and the longer the length the looser the wave pattern.   Remember: longer hair means shorter weft widths. With proper care, this hair lasts an average of 2-3 years.